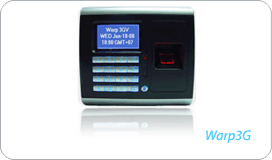 Warp3G เครื่องสแกนลายนิ้วมือ
Fingerprint + Card + PIN Access Control

Web based Management

1,900 Fingerprints/ 30,000 Event records

950 Users

Anti passback

Crystall glass fingerprint reader
Download: Brochure | Installation Manual | Device Manual | Software Manual | Web Based Manual | WarpX Client Software | Warp Server Sofware | Warp Monitor Software
Warp3G Fingerprint access controller, a total biometric base technology is 100% suitable applying to any Entrance-Exit Security, Building Security, Elevator Security, Office Security... Access Control field or for Enterprise level employee's Time and Attendance control system. Warp3G can be using as a Standalone device without connecting with PC / Workstation or can be an integrated solution by connecting to PC/Workstation thru the build-in RS485/RS232 or RJ45 ports.

Standalone mode: Warp3G can be working just like a common Access controller system by simply pairing with Exit Button, Card/Fingerprint Reader or Magnetic Lock... Additionally, with build in dry connectors which would allow you to integrate security alarm system.

Internet mode: To be a single door controller (Reader mode) by working under BF-670 or BF-660 devices, door status can be total managed and centralized by Web management software.
Applications
Site Security and Access Control, Time Attendance
Features
Standalone mode, or a Reader mode for Multidoor controller thru TCP/IP working under BF-660/BF-670.

Optical based fingerprint sensor pad.

Lower power consumption, optional voice indication, OSD menu (On Screen Displayer), and simple enrollment process.

Door Bell support.

Wiegand Output and Fire Alarm Input support.

USB interface option for log extractions.(Optional)

Build-In http server allows on-line system management thru web browser.

Real-Time and On-Line door status monitoring thru web browser.

Double badge and dual-doors interlocking are available.

Anti pass back (no tolerance / period timer) can support umlimited levels without online software support when offline.

Real-Time and On-Line door status monitoring thru web browser.

Available for 50 Holidays, 40 Sets of Function Keys , 32 Departments, 32 Designations, 64 Time Settings,64 Time Zones, 32 Groups and Internet Time Server.
Specification
Verification option: Fingerprint, Fingerprint+Card, Fingerprint+Pin, Card+Pin, Fingerprint+Card+Pin

Verification Mode: 1:1 /1:N.

Verification Time: Less Than 2.0 sec.

Registration Time: Less Than 3.0 sec.

False rejection (FRR): Less than 0.01%

False acceptance (FAR): Less than 0.001%

Capacity: 950 persons, totally 1900 templates (each user with 2 templates)

Log data: 32,768 entries

2,000 entries System Log to keep track of system modification history

Relay output x 1

Communication interface:

RS-485×1 External Reader & Relay Box (BF-20)

TCP/IP (Reserved for internetworking)

Communication speed: Ethernet 10/100M, Auto crossing.

Card format: 125 KHz (EM/TM); 13.56 MHz (Mifare)

Reading range: 10 ~ 15cm (EM/TM), 5 ~ 7cm (Mifare)

Keypad: 10 numeric keys (0~9) + 6 function keys (F1~F4,#,*) & 1 Door Bell

Display: 128 × 64 Pixels LCD, 3 LED

Operation Temperature: 0˚C~ 65˚C

Operation Humidity: 5 ~ 95%RH

Power: DC 9~24V, 1A

Weight: 350g.

Dimension: 145 × 125 × 33 mm
Product Type
Model

Type

Optional 1

Optional 2

Warp3G

: EM

V: Voice

P: POE

M: Mifare
X: EM+Mifare
H: HID
How to choose a model ? For example: Warp3G, Warp3G-M-V or Warp3G-E-U, and so on.